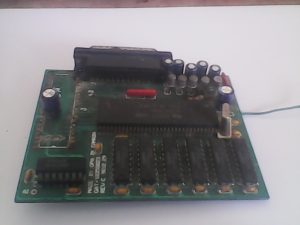 TI-IMAGE-MAKER is an internal console expansion board designed to be installed in your TI99/4A with a few simple tools.
TINY-TIM (as some have nick-named it) upgrades your current TMS9918 video display processor to the latest state-of-the-art & fully compatible V9958 processor. This processor is also compatible with the V9938 used in other existing upgrades for your TI99 console.
OPA used state-of-the-art CAD/CAE designing & top design engineers to bring you the best video upgrade for the TI in the smallest most compatible package possible.
The PCBoard containing the V9958, 192K of VRAM, a special ASIC device, a 25-pin monitor/expansion port for future video devices like digitizers, GENlock, etc. & the analog RGB video driver circuitry, has all been installed on a compacted 4″*3″ layout.
TINY-TIM comes complete with:-
Step-By-Step User Installation Guide.
Recommended RGB monitor guide, with detailed specs and pin-outs for many different monitors to ease in interfacing TIM to your RGB monitor.
Graphic demos displaying the power of TIM and the new Yamaha V9958 processor with its huge 192K of video RAM.
Our owm GIF file viewer supporting the V9958.
Three disks packed with fairware software which support the V9938/58 chips.
Also included with TINY-TIM is the S.O.B. (an operating system replacement) & after reading over the in-depth review of the V9958 processor pasted below, we are sure you will find that TIM is the best thing ever for your TI-99/4a console.
---