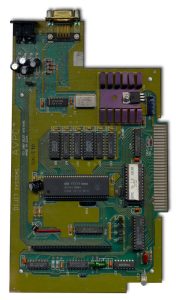 O-P-A (Oasis Pensive Abacutors)
Public Release AVPC Source Code
Original Coded from 1988 – 1993
Release Done on May 24th, 2014
Long Live The TI99/4A & GENEVE
The Dijit Systems Advanced Video Processor Card (AVPC) was an 80 Column card that fit into the PEB. Along with a suitable RGB monitor turned the TI-99/4A console into a 80 Column device.
There was only one problem the original TI99 Operating System on powerup writes the registers in such a way that it was incompatible with the new register setup of the upgraded V9938 system, so DIJIT Systems designed a special power-up DSR located on the card's EEPROM that tries to correct this error, but their layout was not perfect as such we wrote a improved DSR version for others!
Inside this archive, you will find the following files:
AVPC010-S – Original DSR EPROM coded by DIJIT
AVPC020-S – The First Improved Version by OPA
AVPC030-S – The Commerical Release of new DSR
AVPC032-S – Newer 3.2 Update But Not Released
AVPCSOB-S – Custom Version for those with SOB
SET994A-S – Code to set 994A mode in XB Progs
V9958-S – Super-Cart Program to Test Video!
BackupV9T9.zip – The above files in TI Format!
Release Rules are simple, you are free to study and improved this code to use on your Card or to emulate it. Just please remember to give correct credit to the original source of this set of Assembly files! 🙂
Thanks, for more information please contact me today, or send me a message on AtariAge.
---